I'm alive today because I relied on scientific research to find a treatment for my rare disease. Without the drug I used off-label, I wouldn't be alive today. My internal bleeding was becoming progressively worse, and it was only a matter of time before I faced a situation that could have had a terrible outcome.
So why am I writing about science? Because today the rare disease community, our families and friends need to unite to send a message to the FDA. Next Friday is an important meeting for the Duchenne Muscular Dystrophy (DMD) community as Sarepta's Eteplirsen is up for review. This drug has the potential to save many lives.
I have seen first hand via social media just how powerful Eteplirsen is. With DMD, boys are not able to walk once they reach their teenage years. Rare family members have gifted us with videos and photos of their sons who are participating in the Eteplirsen clinical trials walking, playing, and just being normal kids. They're not losing abilities like the children who aren't receiving the drug. While it is heartwarming to see improvements, I am constantly reminded that other families are waiting while their children are losing strength. Time is of the essence, Duchenne Muscular Dystrophy is not waiting for FDA approval of Eteplirsen. Just about every week my timeline lights up in remembrance of another son lost. How many more of our boys have to die before the FDA approves Eteplirsen?
There are no safety issues with Eteplirsen, I want to highlight that. The FDA has taken issue with statistical data. Let me explain to you why this enrages me, and why I see this as an attack on our entire rare family, all 30 million of us.
In October 2014, there was no statistical data to tell me that Rituxan would put my ITP in remission. In fact, if I just analyzed raw data, I had less than a 50% chance of it working. Why? Because Rituxan was being used on an entire ITP population, not those who had platelet destruction issues which the CD-20 inhibitor would address. Instead, I used patient data- meaning I analyzed what those who had successful Rituxan treatments had in common. I found the common links on our blood work, how we responded to other treatments, what our doctors thought, even how we bled. I researched the science behind how Rituxan works, what exactly it does to the body and how that relates to the destruction of my platelets. I went in to my doctor and I asked for Rituxan. I knew it was my only hope, I knew my life depended on it. And I was certain that with my research, I had an excellent chance of success.
Rituxan saved my life, but it was NOT a miracle, it was science. 
Eteplirsen is to Duchenne Muscular Dystrophy what Rituxan is to Immune Thrombocytopenia. It isn't about statistics because these treatments aren't meant for everyone and you cannot apply mass-market measures to orphan drugs for a complete analysis. You cannot expect small patient populations to produce statistic data sets that rival those of drug trials for diseases like diabetes or COPD.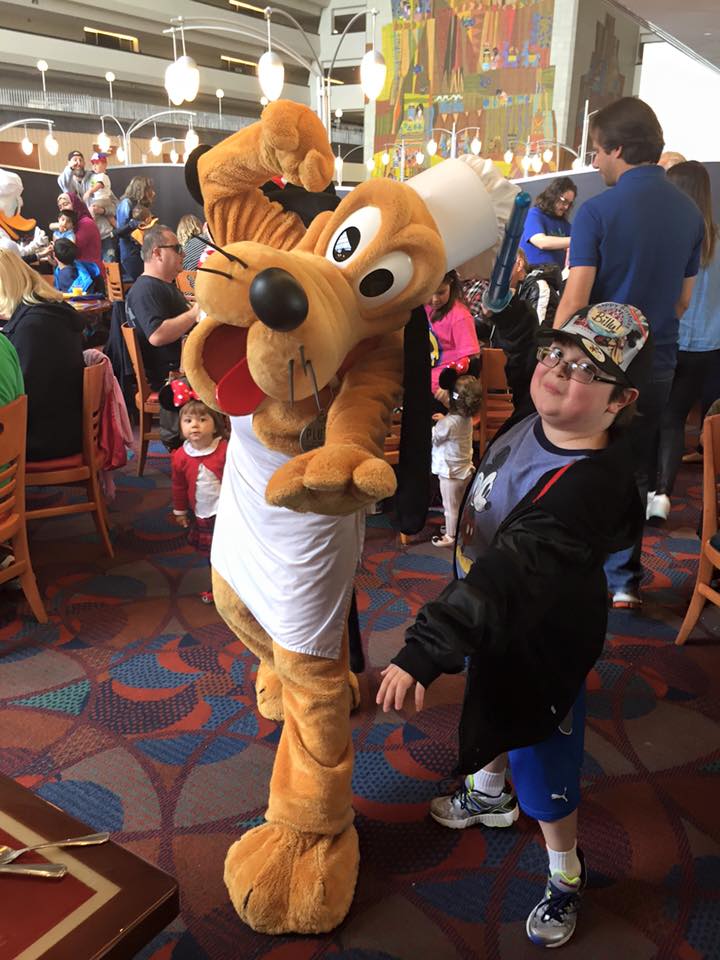 Success for orphan drugs lies in science. It is in the photos and videos of 15 year old Billy (above with Pluto), who still has the ability to walk. This wouldn't be possible without Eteplirsen.
Billy is living proof that Eteplirsen works. He is the walking scientific evidence of a safe and effective treatment for Duchenne Muscular Dystrophy.
So friends, I ask that you take a few seconds to fill out this short form that will request members of Congress to sign a letter urging the FDA to apply the FDASIA tools to Duchenne which would allow for an accelerated approval of Eteplirsen. This historic moment will set the stage for future orphan drug development, so your participation is critical.
Parent Project Muscular Dystrophy has a short form you fill out with your name and address, and they will send the letter to your representative for you.
Let's end Duchenne.