President Obama announced the Precision Medicine Initiative to a room full of doctors and representatives from the healthcare industry. While this is an exciting time for patients dealing with various forms of cancer and other conditions, noticeably absent from the plan was the rare disease community. In fact, I have yet to really encounter anything from the PMI that focuses on researching rare diseases despite all the rhetoric with understanding genetics and how medicine can taylor treatments to suit an individual.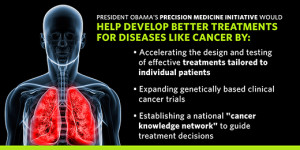 The PMI is loaded with fancy buzz words targeting cancer patients and tumors. It seems that the initiative is driven on the idea that scientists will be able to look at a patient's genetic makeup and formulate chemotherapy to destroy cancer cells. While this is exciting for cancer research, it leaves little hope for rare disease patients. Why? Well, where are we pushing for research and funding to understand rare disorders? If we are looking at a patient's genetic map, what can we do with that information outside of cancer research?
Granted, not all rare diseases are genetically linked, or we know so little about them that we haven't found a connection. In regards to ITP, people from all backgrounds have the disorder so the PMI wouldn't be much help. That doesn't mean that it is useless, but it shows there is a need for improvement and expansion outside of cancer research. Washington can change the focus of the PMI to fund rare disease research through the NIH. Just because rare diseases aren't well known and not as attention grabbing as cancer (because there is a lack of knowledge both in the public sphere and in medicine), doesn't mean it should be passed over.
We shouldn't forget that for over 7,000 rare diseases, there are approximately 450 treatments, many of which are repurposed drugs that do very little to actually help patients. With as many as 30 million "rare" Americans, the Precision Medicine Initiative has the ability to help an underserved part of society. The problem is, we aren't headline grabbing. Many of us suffer in silence, in the dark corners of the medical community, constantly questioned by the doctors who are suppose to help us.
If Washington is serious about transforming medicine, creating jobs and improving our healthcare, they will help those who need it the most. I truly believe that understanding rare diseases will unlock mysteries behind many common health issues that impact all Americans.