Imagine having blood drawn via a finger prick, downloading an app to your phone and the results in your hand within 24-48 hours. On top of that, you knew exactly what you would pay for the blood tests you wanted and you didn't need to get orders from your doctor. This isn't an idea, it is reality for those lucky enough to live in Arizona thanks to a company called Theranos. 
When I was in Scottsdale a few weeks ago I needed to have a CBC so I took advantage of this amazing service. I walked into Walgreens and filled out a form. I waited to be called in and prepared for the typical mid-arm needle stick. I was elated to discover that my CBC would be done via finger prick and the amount of blood they took was a fraction of what LabCorp has to take!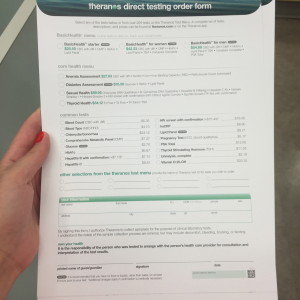 It was awesome to have a form with all of the prices right in front of me. I also discovered that I could view options from their iPhone app. While I waited, I set up my account so my results would be available within 24 hours. The whole process was easy and stress-free. The complete opposite of any other lab experience I have had (trust me, with ITP I have a lot).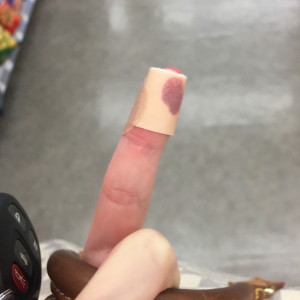 The blood aftermath was minimal, I had zero pain when the tech stuck my finger. The room I was in was bright, clean and comfortable. I didn't worry about germs, privacy or the expertise of the tech taking my blood. She was familiar with ITP! I was amazed and happy, my disorder freaks out a lot of people because I tend to bleed more than the average person. She was a pro, very kind and engaged in conversation while taking my blood.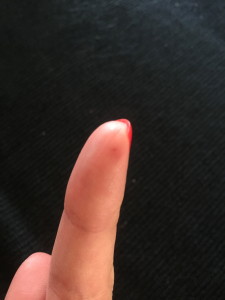 There was no pain a few hours after, and no one could tell I had blood taken. One big problem with taking blood from the middle of my arm is the mark left behind. When my platelets are low it turns into a giant bruise and causes people to stare. The Theranos method takes away the fear of being gawked at.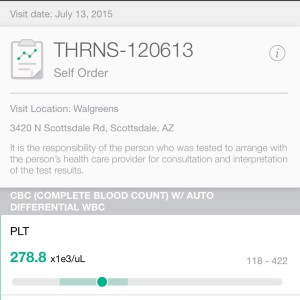 The best part of the whole process was seeing my platelets at 278,000! I'm still holding strong in remission.
Theranos is the product of Elizabeth Holmes, who dropped out of Stanford and founded the company. She is revolutionizing the way we collect blood and how we price healthcare services. I am so happy that I had an opportunity to experience the services offered by Theranos during my pre-law school trip. I hope that Theranos comes to Florida in the very near future because I would greatly benefit from not needing a giant needle in my arm every two weeks! They make life easier for rare disease patients like myself, especially those of us who have blood disorders.
So Elizabeth, if you're reading this, thank you! Your impact goes so much deeper than the slight pinch of a needle on my fingertip. It gives me hope for the future.