I am so excited to share with everyone my trip to DC for Rare Disease Week. It was a wonderful opportunity to meet with other rare advocates as well as healthcare industry leaders and political figures to discuss important legislation. Personally, it was a life changing experience where I finally felt that everything I have gone through in the last 313 days can have a positive outcome. While my situation is unique and I have a rare disease, my decisions can be used to trigger the changes necessary to allow all rare patients a chance at a better life.
The first night I attended a cocktail reception and met some wonderful advocates. I also finally met Patty from the Rare Disease United Foundation in person! Her organization is so amazing, it was such an honor to spend time with her and discuss issues in the rare community. I consider her my rare "mom". I also met Jenn, Mel and John who are parents of children with Duchenne Muscular Dystrophy. It was interesting hearing about their issues with the FDA and granting drug approvals. Currently, they are pushing the FDA to approve a drug to treat their sons. Their stories are powerful, it makes you realize how much reform is needed and how vital it is to establish a quick and effective review of potential treatments via the FDA.
Wednesday, February 25th was our official day on the hill. I had the pleasure of uniting with an awesome group of people representing a wide variety of rare diseases. Laura Milford has Hereditary Angioedema, Kimberly Elfersy is a GIST Sarcoma survivor and Alison Frase who was there on behalf of her son Joshua who bravely battled Myotubular Myopathy.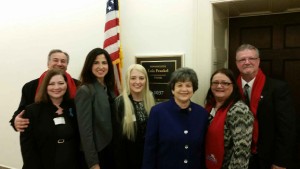 We had the opportunity to meet with staff members from multiple Congressional offices. Congresswoman Lois Frankel was nice enough to snap a photo with us after meeting with her staff to discuss the OPEN ACT. I found that the 21st Century Cures Act had bi-partisan support, a promising step in the right direction for the rare disease community.
All day I was looking forward to meeting with Congressman Bilirakis who is co-sponsoring the OPEN ACT. When I learned about the bill, I was overjoyed that someone was finally going to push to end off-label use. After all, Rituxan was "off-label" for ITP and it worked well for me. I was pumped to share my story with him and how his bill can allow other ITP patients to have the same opportunities that I had. We had a spirited conversation about the OPEN ACT and how it can change medicine, especially for patients who can't receive care at a research hospital. We also discussed how data gathered from repurposing FDA-approved drugs can help researchers work on new treatments and potential cures. It is a win-win!
In the coming months I will be encouraging other members of Congress to support HR 971. I am living proof that repurposing drugs for rare diseases can save lives. It is time for the rare community, healthcare providers and the government to come together and change medicine.